Blog
---
Why Did Remy Ma Go to Jail: A Detailed Insight on Her Arrest
19 May 2023, Celebrities, by brian
Why did Remy Ma go to jail? Read this blog and discover the details behind Remy Ma's time in lockup! Discover the legal drama that caused turmoil in her life and career.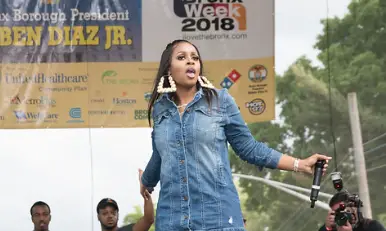 Why did Remy Ma go to jail? Many people, including those with incarcerated loved ones, have no doubt pondered this question while grappling with the intricacies of the judicial system. That's why we're exploring the specifics of rapper Remy Ma's arrest and sentencing in this blog post.
We'll explore her legal history, including previous incidents that led up to her eventual incarceration. Additionally, we will analyze the legal rulings and consider potential influences on the court's decision-making.
Lastly, we'll examine the impact of Remy Ma's sentencing on her personal life as well as on other individuals facing similar situations. By understanding why Remy Ma was arrested and how she navigated through these challenging circumstances, you can gain valuable insights into your own family member's experience with incarceration.
Remy Ma's Sentencing
On March 27, 2008, Remy Ma (real name Reminisce Smith) was convicted of assault, weapons possession as well as attempted coercion in connection with a violent altercation that happened in July 2007, outside Pizza Bar, a Manhattan nightclub, leading to an eight-year prison sentence. Assault, weapons possession, and attempted coercion are also included in the charges against her.
The Incident That Led to Her Arrest
On July 14th, 2007, Remy Ma got into an argument with Makeda Barnes-Joseph over $3,000 she believed had been stolen from her purse during a birthday party at the club. After leaving the venue together in Remy's SUV, shots were fired and Barnes-Joseph was left with two gunshot wounds to the abdomen. Barnes-Joseph endured serious harm, necessitating a number of medical procedures to cure her wounds.
Trial and Conviction
Remy Ma maintained that the shooting was accidental throughout her trial. The odds are not in her favor when even after hearing arguments that the assault was not deliberate, a jury still determined her guilty of first-degree assault on March 27th, 2008. In addition to this charge which carried up to twenty-five years imprisonment alone; she also faced further counts related to illegal gun possession and coercing witnesses not to testify against her.
Assault: First-degree assault conviction for intentionally causing serious physical injury using a deadly weapon or dangerous instrument.
Weapons Possession: Convicted of criminal possession of a weapon in the second degree for possessing a loaded firearm with intent to use it unlawfully against another person.
Attempted Coercion: Found guilty of attempting to prevent or hinder witnesses from testifying by means of instilling fear or offering benefits.
In May 2008, Remy Ma was sentenced to eight years in prison. She served six years at the Bedford Hills Correctional Facility for Women before being released on parole in August 2014.
Remy Ma was sentenced to eight years in prison for assault, and her sentencing serves as a reminder of the consequences of violence. Moving on, Remy Ma's legal history prior to this conviction is also worth exploring.
Impact of Remy Ma's Sentencing
The sentencing of Remy Ma had a considerable effect on her professional life, personal relationships, and the lives of those close to her. In this section, we will explore the consequences that Remy Ma's sentencing had on her career, personal life, and family.
A. Career Setbacks
Remy Ma's incarceration led to an abrupt halt in her music career. Before going to jail, she was enjoying considerable success as a rapper and songwriter with hits like Whuteva. Her album There's Something About Remy: Based on a True Story received positive reviews from critics but failed to achieve commercial success due to limited promotion following legal troubles.
B. Family Struggles
Remy Ma is married to fellow rapper Papoose (Shamele Mackie), who stood by his wife throughout the ordeal despite their separation during the eight years she spent behind bars. The couple has one child together named Reminisce MacKenzie Mackie born after Remy's release from prison in 2018.
Papoose: During Remy's imprisonment, Papoose took care of their blended family which includes children from previous relationships while also maintaining his own rap career.
Motherhood: Motherhood becomes even more challenging for those who have been released from prison like Remy Ma. Rebuilding trust, establishing bonds, and overcoming societal stigma are obstacles they must navigate. Balancing parenthood with rebuilding their lives requires resilience and support for a smooth transition and the well-being of both mother and child.
C. Post-Prison Life and Career Resurgence
After serving six years of her eight-year sentence, Remy Ma was released from prison in 2014. She immediately began working on rebuilding her career by collaborating with various artists like Fat Joe, DJ Khaled, and French Montana. Her collaboration with Fat Joe on the hit single "All The Way Up" earned them a Grammy nomination for Best Rap Performance in 2017.
In addition to her music career, Remy Ma has ventured into other areas such as reality television by joining the cast of VH1's popular show Love & Hip Hop: New York. She also became an advocate for criminal justice reform and felon voting rights (source). You can read about prisoner voting rights in this blog post, "Can You Vote In Prison?" 
Despite facing numerous challenges due to her incarceration, Remy Ma has managed to overcome adversity and rebuild both her personal life and professional career.
Key Takeaway: 
Rapper Remy Ma's incarceration had a significant impact on her music career and personal life and family struggles. After being freed, Remy Ma joined forces with a variety of performers, promoted felon voting rights, and reconstructed her individual life as well as her professional trajectory.
Conclusion
After examining Remy Ma's legal history and sentencing, it is clear that she went to jail for shooting a former friend in 2007. This incident led to her being charged with assault, weapons possession, and attempted coercion. Despite appeals and attempts at early release, Remy Ma served six years in prison before being released in 2014.
If you or someone you know has been impacted by the criminal justice system like Remy Ma was, consider visiting Prison Insight. For those affected by the criminal justice system, Prison Insight provides invaluable resources and guidance to help them understand the intricacies of navigating it.
---
---
Categories