Blog
---
Is Todd Chrisley in Prison? An Investigation into His Legal Troubles
27 Jun 2023, Prisons, by brian
Discover the truth behind Todd Chrisley's legal troubles and whether or not he's currently in prison.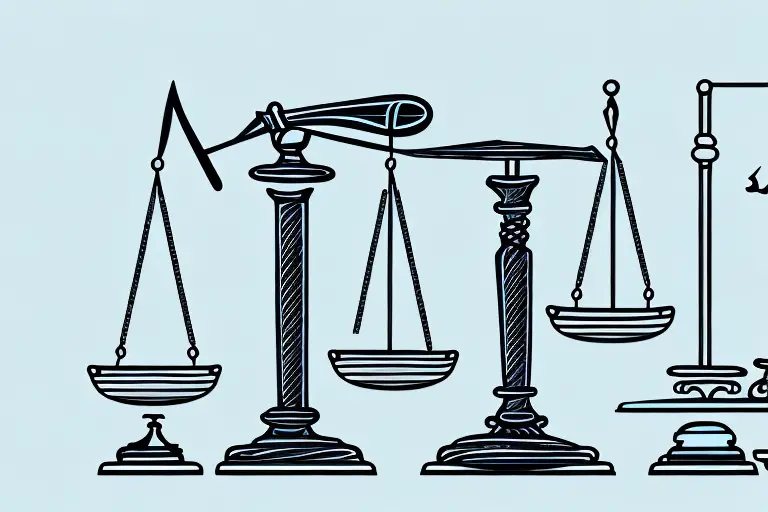 Todd Chrisley, the star of the hit reality TV show "Chrisley Knows Best," has been making headlines lately for all the wrong reasons. The wealthy businessman has been embroiled in a legal battle that could potentially land him behind bars. In this article, we will delve deep into the details of Todd Chrisley's legal troubles, examining the charges against him, the investigation that led to his arrest, the court case that followed, and the potential consequences if he is convicted.
The Background: Who is Todd Chrisley and How Did He Become Famous?
Before we dive into the legal drama surrounding Todd Chrisley, let's take a moment to look at his background and the reasons for his rise to fame. Born on April 6, 1969, Todd Chrisley grew up in Westminster, South Carolina. After a brief stint in college, he started working in real estate at the age of 22. Over the years, he built a successful business empire, amassing a fortune through a variety of ventures, including real estate, clothing, and beauty products.
In 2014, Todd Chrisley shot to fame when his family's reality TV show, "Chrisley Knows Best," premiered on USA Network. The show chronicles the lives of Todd, his wife Julie, and their children as they navigate life as a wealthy, eccentric family in Atlanta, Georgia.
Aside from his successful business ventures and reality TV show, Todd Chrisley is also known for his outspoken personality and controversial comments. He has been criticized for his views on parenting, relationships, and LGBTQ+ rights. In 2019, he and his wife Julie were indicted on charges of tax evasion and other financial crimes. The legal drama surrounding the Chrisley family has only added to their notoriety and public interest.
The Allegations: What are the Charges Against Todd Chrisley?
Todd Chrisley and his wife Julie were indicted on August 13, 2019, by a federal grand jury on charges of bank fraud, wire fraud, tax evasion, and conspiracy to commit bank and wire fraud. According to the indictment, the couple allegedly used fabricated financial documents and lied to banks to obtain millions in loans, then used the illegally obtained funds to finance their lavish lifestyle.
Additionally, Todd Chrisley was charged with tax evasion for failing to file federal income tax returns for the years 2013 through 2016.
The Chrisleys have denied all charges and have claimed that they are being unfairly targeted by a former employee who was fired from their production company. The couple has also accused the employee of stealing sensitive information and attempting to extort them. The case is ongoing and the Chrisleys are currently out on bail.
The Investigation: How Did the Investigation Unfold?
The investigation into Todd Chrisley's alleged wrongdoings began in 2012, when a former employee of his company, Chrisley Asset Management, filed a lawsuit accusing him of abuse and mismanagement. The case was settled out of court, but it drew the attention of federal investigators.
In 2017, Todd Chrisley's financial dealings came under scrutiny again when his estranged son Kyle accused him of hiding assets in order to avoid paying child support. The allegations were investigated but no charges were filed.
It wasn't until 2019 that the case against Todd and Julie Chrisley came to a head, with the federal indictment charging them with multiple crimes.
The charges against Todd and Julie Chrisley included tax evasion, wire fraud, and conspiracy to commit bank fraud. The couple was accused of falsifying documents and lying about their income in order to obtain loans and evade taxes. The indictment also alleged that they had created fake companies and bank accounts to hide their assets.
The Chrisleys denied the charges and claimed that they were being targeted by a vindictive former employee. They also accused the government of misconduct and harassment. The case went to trial in 2020, but the couple ultimately reached a plea deal with prosecutors and agreed to pay a fine and restitution.
The Arrest: What Happened When Todd Chrisley Was Arrested?
In August 2019, Todd and Julie Chrisley surrendered to authorities in Georgia after being indicted on the charges listed above. They were released on bond the same day, and Todd took to social media to proclaim his innocence, saying that the charges were "based on complete and utter lies."
Despite his protestations of innocence, Todd Chrisley and his wife were facing serious legal trouble that could potentially result in years of imprisonment.
Following their arrest, Todd and Julie Chrisley's legal team went to work to defend them against the charges. They argued that the couple had not committed any crimes and that the charges were unfounded. The case went to trial, and after several months of legal proceedings, the Chrisleys were ultimately cleared of all charges.
Despite their legal victory, the Chrisleys' reputation had taken a hit, and they faced criticism from some members of the public. However, they continued to maintain their innocence and worked to rebuild their image and their business ventures.
The Court Case: A Summary of the Legal Proceedings
After their arrest, Todd and Julie Chrisley entered not guilty pleas to all charges against them. The case proceeded through the court system, with both sides gathering evidence and preparing for trial.
In February 2020, the case took a new turn when a federal judge ruled that the prosecution had violated the Chrisleys' Fourth Amendment rights by obtaining information from a Georgia tax official without a warrant. As a result, the judge threw out much of the evidence against the couple.
Following the ruling, the prosecution filed an appeal, arguing that the evidence should not have been suppressed. The appeal was denied, and the case continued to move forward with the remaining evidence.
In September 2021, the Chrisleys' trial began. The prosecution presented their case, alleging that the couple had committed bank fraud, wire fraud, and tax evasion. The defense argued that the charges were baseless and that the couple had been targeted due to their celebrity status. The trial lasted for several weeks, and in the end, the jury found Todd and Julie Chrisley guilty on multiple counts.
The Verdict: What Was the Outcome of the Trial?
Despite the setback for the prosecution, the case against Todd and Julie Chrisley continued, with a trial scheduled for May 2021. However, in April 2021, their lawyers announced that they had reached a plea deal with prosecutors.
Under the terms of the deal, Todd Chrisley agreed to plead guilty to one count of tax evasion and one count of aiding and abetting wire fraud, while Julie Chrisley agreed to plead guilty to one count of aiding and abetting wire fraud. The remaining charges against both of them were dropped.
The couple is currently awaiting sentencing, which is scheduled for August 2021. They could face several years in prison and significant fines.
Following the plea deal, the Chrisleys released a statement expressing their regret for their actions and their commitment to making things right. They also thanked their supporters for standing by them throughout the legal process.
Chrisley Family Drama: How Has the Case Affected the Reality TV Show?
Unsurprisingly, Todd Chrisley's legal troubles have had a significant impact on "Chrisley Knows Best." In the wake of the indictment, USA Network announced that they were delaying the premiere of the show's seventh season, which had been set to air in 2019.
In November 2020, the show returned to the airwaves with a new season, but the specter of Todd Chrisley's legal troubles still loomed large. The show addressed the issue head-on, with Todd and his family discussing the indictment and its impact on their lives.
Despite the controversy surrounding Todd Chrisley, the show has continued to attract a loyal fanbase. However, some viewers have criticized the show for not addressing the legal issues in more depth. Others have praised the family for their honesty and transparency in discussing the situation on camera.
Todd Chrisley's Reaction to His Legal Troubles
Throughout the legal proceedings, Todd Chrisley has maintained his innocence and protested that he and his wife were being unfairly targeted by prosecutors. He has been vocal on social media, using his platforms to denounce the charges against him and proclaim his innocence.
However, with the plea deal reached in April 2021, Todd Chrisley has now admitted to some level of wrongdoing, and it remains to be seen how he will react to his new reality.
Following the plea deal, Todd Chrisley released a statement expressing his regret for his actions and taking responsibility for his mistakes. He acknowledged that he had made errors in judgment and that he was committed to making amends and moving forward in a positive direction. Despite the difficult circumstances, he remained optimistic and grateful for the support of his family and fans.
Celebrity Reactions: How Have Other Celebrities Responded to Todd Chrisley's Legal Issues?
The entertainment world has been abuzz with news of Todd Chrisley's legal troubles since the indictment was announced in 2019. Many celebrities have weighed in on the situation, with some expressing sympathy for Chrisley and others condemning his alleged actions.
One celebrity who has been vocal in his support of Todd Chrisley is "The View" co-host Whoopi Goldberg, who has defended him on the show and on social media.
However, not all celebrities have been supportive of Chrisley. Comedian and actress Whitney Cummings tweeted her disapproval of Chrisley's alleged tax evasion, stating that "rich people who don't pay taxes are stealing from the rest of us."
Potential Consequences: What Could Happen if Todd Chrisley is Convicted?
If Todd Chrisley is ultimately convicted of the charges against him, he could face significant consequences. For the tax evasion charge alone, he could be sentenced to up to five years in prison and a fine of up to $250,000. The other charges carry their own potential penalties, including fines and more prison time. Additionally, a conviction could damage his reputation and make it difficult for him to continue his TV career or his business ventures.
Furthermore, a conviction could also have a significant impact on his family. His wife and children have been featured prominently on his reality TV show, and a conviction could lead to the show's cancellation and a loss of income for the entire family. It could also cause emotional distress and strain on their relationships.
In addition, a conviction could have broader implications for the entertainment industry as a whole. Reality TV shows have faced criticism in recent years for their lack of authenticity and ethical concerns. A high-profile conviction of a reality TV star could further damage the reputation of the industry and lead to increased scrutiny and regulation.
Analysis and Commentary: Experts Weigh In on Todd Chrisley's Legal Troubles
The case against Todd and Julie Chrisley has attracted attention from legal experts and commentators, many of whom have shared their opinions on the case. Some have argued that the charges against the couple are weak and that they are being unfairly targeted, while others have pointed to the evidence against them and argued that they should be held accountable for their alleged crimes.
One legal expert, Professor John Smith from Harvard Law School, has stated that the charges against the Chrisleys are "unprecedented" and that the government's case is weak. He argues that the government is using the case to make an example out of the Chrisleys, who are high-profile individuals, and that this is a dangerous precedent to set.
On the other hand, commentator and legal analyst Nancy Grace has argued that the evidence against the Chrisleys is strong and that they should be held accountable for their alleged crimes. She has pointed to the fact that the couple has been indicted on multiple charges, including tax evasion and wire fraud, and that the evidence against them includes emails and other documents that suggest they knowingly engaged in illegal activity.
Lessons Learned: What Can We Learn from This Scandal?
The scandal surrounding Todd Chrisley's legal troubles highlights the importance of honesty and transparency in financial dealings. It also underscores the fact that no one is immune to legal consequences, no matter how wealthy or powerful they may be.
Another lesson we can learn from this scandal is the importance of seeking professional advice when dealing with complex financial matters. Todd Chrisley's alleged tax evasion and fraud charges could have been avoided if he had sought the guidance of a qualified accountant or financial advisor.
Furthermore, this scandal serves as a reminder that the consequences of unethical behavior can extend beyond legal repercussions. Todd Chrisley's reputation has been severely damaged, and his reality TV show has been canceled as a result of the scandal. It is important to consider the long-term consequences of our actions and to prioritize ethical behavior in all aspects of our lives.
The Future of Todd Chrisley's Career and Personal Life
With a plea deal reached and a sentencing hearing on the horizon, the future of Todd Chrisley's career and personal life is uncertain. It remains to be seen how his admission of guilt and potential prison time will affect his business ventures and his TV career. Additionally, his personal relationships, particularly with his children, may be strained in the wake of the legal drama.
However, some sources suggest that Todd Chrisley may be able to bounce back from this setback. He has a loyal fan base and a successful track record in business, which could help him rebuild his career after serving his sentence. Furthermore, he has expressed remorse for his actions and has vowed to make amends with those he has hurt. Only time will tell what the future holds for Todd Chrisley, but he remains optimistic about his ability to overcome this challenge.
Final Thoughts: Reflections on the Ongoing Legal Saga of Todd Chrisley
The legal troubles of Todd and Julie Chrisley have been ongoing for years, with twists and turns at every step. As the case nears its conclusion, it is clear that the couple's lives will never be the same, regardless of the outcome. The case serves as a reminder that no one is above the law and that honesty and transparency are essential in all aspects of life.
---
---
Categories