Blog
---
How to Write an Inmate a Letter
02 Dec 2020, Prison Rules, by brian
In previous blog posts, I have mentioned just how important it is for an inmate to receive letters from friends and family. For a prison inmate, communication with the outside world is extremely limited. If they don't have access to a TV or radio, the only way an inmate comes in contact with the outside… Continue reading How to Write an Inmate a Letter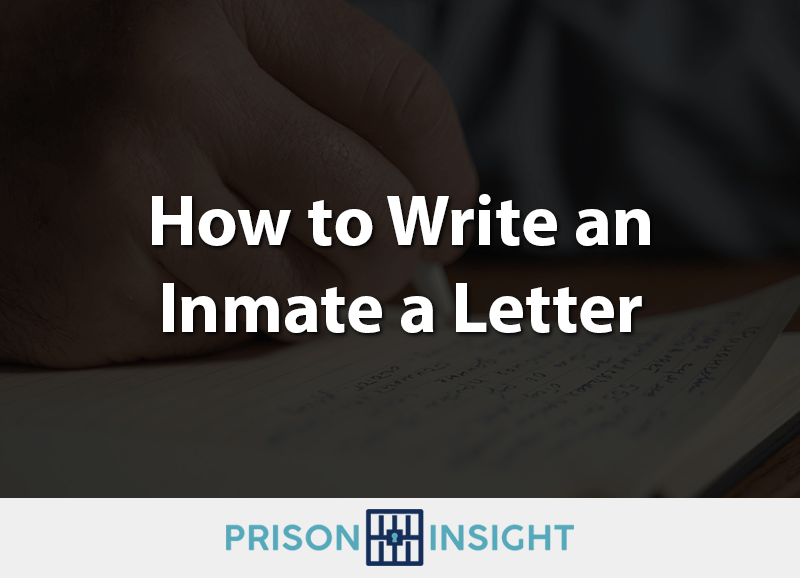 In previous blog posts, I have mentioned just how important it is for an inmate to receive letters from friends and family. For a prison inmate, communication with the outside world is extremely limited. If they don't have access to a TV or radio, the only way an inmate comes in contact with the outside world is through visits and letters.
As you can imagine, there are a lot of rules when it comes to inmate mail. The restrictions vary based on the specific facility, but there are some universal rules. If you've never written a letter to your inmate and are looking for tips, you've come to the right place. In today's blog post, I'm going to explain how to write an inmate a letter that won't get rejected by prison staff.
In today's blog post I will cover the following topics:
All mail is subject to search

What content is allowed in an inmate letter?

How to address an inmate letter

Many prisons now have an email option
All mail is subject to search
When it comes to inmate mail, one thing that is universal in all prisons is that all incoming and outgoing mail is subject to search and is examined for unauthorized articles or substances.
Substances including any type of body fluid, hair, powdery substances or other substances which may appear to create a health or sanitation hazard may be cause for rejection of the correspondence.  
The mail inspectors are mostly focused on attempts to send drugs via inmate mail. When I was locked up, I heard stories of people sending substances underneath the stamps and inside of greeting cards. Because of this, the mail staff started removing stamps before giving mail to inmates.
At the federal level, the Bureau of Prisons has started a new mail policy. Instead of delivering the original mail to the inmates, the letters are currently being copied and the copies are handed out. This is a transition phase, as the letters will soon be scanned electronically so the inmates can read their mail at a digital kiosk inside the prison. 
By using this method, the inmates will not come into physical contact with their letters. Some states are also transitioning to this method. However, this policy is being challenged in court by the ACLU. 
What content is allowed in an inmate letter?
Most facilities will only allow you to send a written letter on paper, and most will allow you to include newspaper clippings or pages printed from the internet. Other items, including but not limited to stamps, stickers, blank stationery or envelopes usually cannot be included inside an envelope sent to an offender. However, the policies concerning stamps and stationary do vary based on the facility.
Correspondence written in a foreign language or that is indecipherable may be censored or delayed, based upon staff resources available for interpretation. 
It should be noted that items allowed through the mail may vary slightly at each institution, and it's not plausible to cover all of the contingencies that could cause mail to be rejected.  If you have any questions or concerns regarding something you intend to include in a mailing, you should contact the institution's mailroom.
If any correspondence, pictures or print materials are determined to not be in compliance with policy, the offender and the sender will be notified. The following items will be rejected or might be subject to censorship. This is not a comprehensive list. 
Sexually explicit writing

Photos containing nudity (any pictorial depiction with less than a fully opaque covering is considered a nude photo), including bare chested children and adult females

Song lyrics with a parental advisory

Tattoo patterns

Gang depictions

Descriptions of the town where the prison is located (don't mention anything that resembles an escape attempt)
If any piece of the correspondence is not allowed, the entire mailing will be rejected.
Each incoming letter to a facility is usually allowed to include 8½ x 11-inch enclosures, pictures, or news clippings. Some prisons require that pictures and personal correspondence must be sent in separate mailings. 
A picture is defined as a visual representation of a person, object or scene, including but not limited to photographs, drawings, cartoons or sketches.
Only film-processed photographs and digital copies are permitted. Polaroid photos are not allowed. Pictures can have no writing on them other than a name, date, and location. Pictures of offenders are usually not allowed.
Pictures may not contain depictions of gang activity, pornography, nudity (including bare-chested adults and children), sexually explicit images, or other inappropriate content. Photos that have been altered or cut are also not allowed.
I should also note that you can make gift subscription purchases of magazines and newspapers for an offender. Before purchasing a subscription, however, please verify that the magazine or newspaper is allowed. 
Also verify that you have the complete and accurate mailing address, including the offender's name, number and housing unit. The subscription must be directly received from the vendor.  You may also deposit funds to an offender's account for the offender to use to subscribe to a periodical.
Also, you can't send care packages with food, hygiene items, or clothing directly to an inmate. However, many states have quarterly package programs where you can buy authorized items for your inmate and send them a package indirectly.
How to address an inmate letter
One of the most important details about inmate mail is the proper way to address the correspondence. It is imperative that you always include your inmate's legal name, their DOC number, and the address of the facility on the front of the envelope. If you know their housing unit and room number, definitely add that info above the facility address.
You must also include your name and address in the return address area of the envelope or the mail will be rejected. Anonymous mail is not allowed.
Here at Prison Insight, all you have to do is click on the name of the facility that your inmate is incarcerated in, and we will give you the details on how to send inmate mail to an inmate at that specific institution. 
If you don't know your inmate's DOC number, you can look it up on the state DOC website or on the BOP website, depending on where your inmate is.
Many prisons now have an email option
If you don't want to deal with all of the rules for inmate snail mail, you can send an email. Most facilities contract with JPAY so you can send an electronic mail to your inmate. The "stamps" usually cost between 25 and 50 cents, and the JPAY app allows you to attach photos to your letter.
If the prison isn't contracted with JPAY, there are other services like Access Corrections and Securus that allow you to send email to an inmate. 
All inmate mail sent electronically is subject to review just like snail mail. If you include any unauthorized content, the letter will be rejected.
Most prisons don't allow you to send money in the mail
While there are some exceptions, most prisons don't allow you to send money directly to an inmate through the mail. If you wish to send your inmate money, please select the facility in the PrisonInsight directory and we will share all of the ways that you can send money to your inmate. 
As a rule, you will need to use a website like JPAY or mail a money order to a specific address for processing (not directly to the inmate). 
Have you ever had a letter to an inmate rejected? Let us know in the comments below.
Sources:





BOP Correspondence Policy





https://www.bop.gov/policy/progstat/5265_014.pdf





BOP to Implement Paperless Mail System in Attempt to Stop Drugs





https://www.prisonlegalnews.org/news/2020/feb/4/bop-implement-paperless-mail-system-attempt-stop-drugs/





JPAY





https://www.jpay.com/pemessages.aspx
---
---
Categories