Blog
---
How To Fill Out Form BP-A0629
02 Jan 2020, Prison Rules, by brian
When you are on your way to prison for the first time, it's very scaryㅡat least it was for me. I never knew anyone who had gone to jail or spent time in prison, so I had absolutely zero knowledge of anything related to the world of corrections. When you are dealing with the Department… Continue reading How To Fill Out Form BP-A0629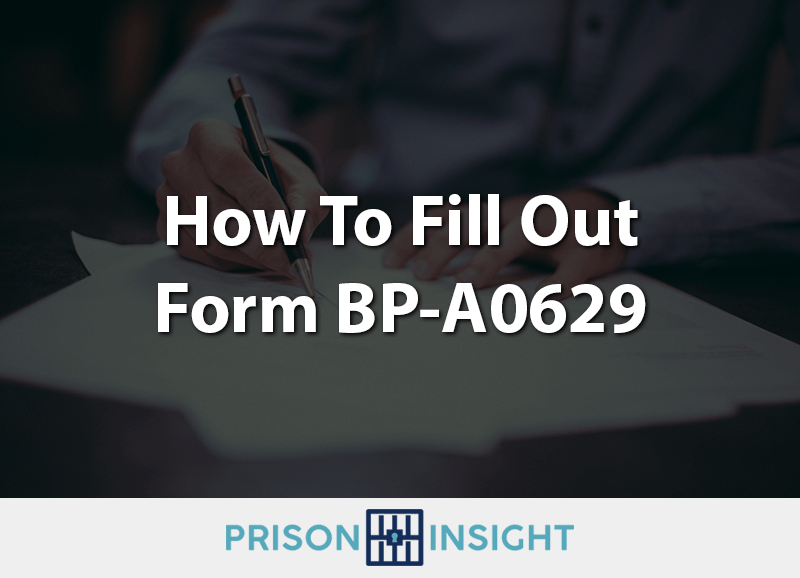 When you are on your way to prison for the first time, it's very scaryㅡat least it was for me. I never knew anyone who had gone to jail or spent time in prison, so I had absolutely zero knowledge of anything related to the world of corrections.
When you are dealing with the Department of Corrections or Federal Bureau of Prisons for the first time, it's incredibly confusing and intimidating. It's not often in life that you have to deal with such a large bureaucracy. You never know who to talk to or what the rules are. You are also at the mercy of unseen people who now control every aspect of your life.
As scary as prison is for a first-time inmate, it can be even worse for family members and friends. Because it's so difficult to communicate with an inmate, it's a huge challenge to get any kind of information about how to send money, how to get a phone call, or what it takes to visit your incarcerated loved in. 
When you aren't able to talk to your loved one, your imagination can run wild. You might start thinking about all of the things that can go wrong when someone is incarcerated. It's incredibly important for an inmate to speak regularly with their friends and family members, whether it's through the mail, on the phone, or during a visit.
Visits are highly encouraged by most prisons because they are an important part of inmate rehabilitation. How to visit an inmate and send them money are usually the first things you want to find out when someone you love is sentenced to prison.
This is one of the reasons we decided to create Prison Insightㅡto help family and friends find all the info they need when they have a loved one behind bars.
Thanks to a question from a member of the Prison Insight Facebook community, today's topic is about the Federal Form BP-A0629, also known as the "Visitor Application," for inmates incarcerated in a facility managed by the Federal Bureau of Prisons.
In this blog post, I will cover the following topics:
What is the purpose of form A0629?

What does form A0629 ask for?

Where do I send form A0629?

How long does it take to become an approved visitor?

What to do if approval is taking longer than expected
What is the purpose of Form A0629?
Form BP-A0629 is a visitor application that must be filled out by anyone (adult or child) who wants to visit an inmate incarcerated in a facility operated by the Federal Bureau of Prisons. Essentially, the application is a way for prison officials to approve or deny prospective visitors so they can keep their facility safe. It is a security measure that will allow the BOP to do a background check on the potential visitor to make sure they aren't a threat to the facility in any way.
Anyone they allow inside the prison gates is considered a security risk, so they use the A0629 to help them reduce that risk.
Please note that this is not for inmates who are incarcerated in a federal prison that is operated by a private company or for inmates incarcerated in a state prison, as those facilities have their own visiting application forms.
As soon as an inmate arrives at their assigned facility, they will be given a stack of A0629 forms that they can mail to their friends and family, who must fill out the form and send it back. You can also find the form online by clicking here.
You can't visit an inmate until your application is approved by prison staff, so please don't try because you will be turned away. An inmate is allowed to add the following people to their visiting list:
Immediate Family
Mother

Father

Step-parent(s)

Foster parent(s)

Brothers

Sisters

Spouse 

Children 
Relatives
Grandparents

Uncles

Aunts

In-laws

Cousins
Other types of approved visitors
No more than 10 friends/associates

Foreign officials 

Members of religious groups, including clergy

Members of civic groups

Employers (former or prospective)

Sponsors

Parole advisors

Attorneys
If you don't know what facility your inmate is incarcerated in, you can use the inmate locator on the BOP website to get that information.
When an inmate first enters prison or is transferred to a new facility, a visiting list might not exist yet. In this case, immediate family members who can be verified by the information contained in the inmate's Pre-Sentence Report may be allowed to visit. 
However, if there is little or no information available about a person, visiting may be denied. You should always call the prison ahead of time to make sure your visit will be permitted.
What does form A0629 ask for?
Form A0629 is a one-page document that is available in both English and Spanish and features 14 areas you must fill out to gain approval for a visit. You will be asked to provide the following information:
Legal Name

Date of Birth

Address

Telephone Number

Race and Sex of Visitor

Driver's License Number and State of Issuance

Are you a US citizen? If your answer is yes, you must provide your Social Security Number. If your answer is no, you must provide your Alien Registration Number or Passport Number.

You relationship to the inmate 

Do you wish to visit the inmate?

Did you know this person prior to incarceration?

Have you been convicted of a crime?

Are you currently on probation or parole?

Do you correspond or visit with other inmates?
When you fill out the form, you are requesting to be on the list of your inmate's approved visitors. In order to be approved, prison officials might send an inquiry to the appropriate law enforcement or crime agency to make sure you aren't a problem for the facility.
You are not required to supply all of the information requested, but if you don't provide all of the necessary info, your application will be delayed, and you might not be considered for a visit.
It is against federal law to lie on the BP-A0629, so if you don't want to provide the requested information, forget about it instead of trying to falsify the document. If you get caught lying on this form, it could result in criminal prosecution, and you will be facing fines and a prison sentence of your own.
Where do I send form A0629?
When you are finished filling out the form, DO NOT MAIL IT TO YOUR INMATE. Instead, you must mail the A0629 to your inmate's counselor at the facility where they are incarcerated. It can be difficult to find out who that is if you print out your own application online.
When the inmate sends you an A0629 Form, the information about where to return the form should be written on it. If you need to find out who you are specifically supposed to send your completed application to, please call the facility directly. 
The general phone number for each federal facility is available on PrisonInsight. You just have to click on the prison's name in our "Find A Facility" section to find out that info. We also provide each facility's mailing address.
How long does it take to become an approved visitor?
The approval process usually takes about 30 to 60 days. However, it can possibly go a lot faster for immediate family members. Sometimes, it will take a little bit longer depending on the facility and the specific situation.
What to do if approval is taking longer than expected
If you haven't received a response to your application after 60 days, then it's time to start making some phone calls. You should call the facility and ask to speak with your inmate's counselor. They should be able to give you the information you need or look into the situation. 
If you still find yourself waiting, don't be afraid to call the warden, so you can find out what's going on. The last thing any prison official wants is someone in the free world complaining about their facility. Remember, the squeaky wheel gets the grease!
Have you ever visited someone in a federal prison? If so, let us know about the experience in the comments below.
Sources:  





Visitor Information





https://www.bop.gov/policy/forms/BP_A0629.pdf





General Visiting Information





https://www.bop.gov/inmates/visiting.jsp
---
---
Categories