Blog
---
Divorce and Incarceration 101 – Everything You Want to Know
19 Feb 2020, Prison Rules, by brian
As a person of single status, I considered myself to be lucky when I was incarcerated because I didn't have to worry about a relationship. Just about everyone who has a significant other when they get locked up thinks that the relationship will survive, but the sad truth is that relationships rarely make it through… Continue reading Divorce and Incarceration 101 – Everything You Want to Know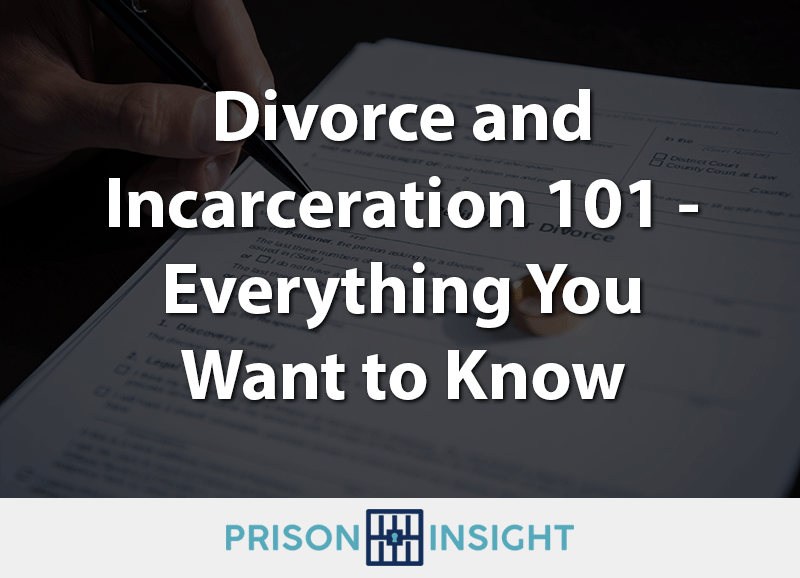 As a person of single status, I considered myself to be lucky when I was incarcerated because I didn't have to worry about a relationship. Just about everyone who has a significant other when they get locked up thinks that the relationship will survive, but the sad truth is that relationships rarely make it through a prison sentence.
Whether it's a spouse or a boyfriend/girlfriend, those on the outside are rarely able to handle the trauma of having a partner behind bars – or vice versa – especially when the sentence is longer than a few months.
In fact, research shows that for every year someone is incarcerated, the likelihood of divorce goes up 32 percent.
Relationships and marriages are difficult enough when you are both in the free world. However, the financial responsibilities, the long distance, and the everyday struggles related to kids and work are just too much for people to handle when their partner is locked up. 
If you are married when you go to prison, you can file for divorce while you are incarcerated. Your spouse in the free world can also file for divorce from you. That leads us to today's blog post: Divorce & Incarceration 101 – Everything you need to know.
In this blog post, I will cover the following topics:
Can you divorce someone who is in prison?

How does an inmate file for divorce?
Can you divorce someone who is in prison?
Yes, you can divorce someone who is in prison. No matter if the inmate is in a state or federal facility – or if they are in the county jail – you have the right to file for divorce from someone who is serving time.
I am not an attorney, and this is not legal advice. However, the information I am going to share can point you in the right direction when you are looking to divorce an incarcerated spouse.
When you are divorcing someone who is locked up, the process is pretty similar to an ordinary divorce. If you and your spouse agree on all the significant issues related to ending the marriage, you will most likely be able to complete an uncontested divorce.
This kind of divorce goes pretty quickly because both spouses agree on all of the terms. They usually require less paperwork, lower attorney fees, and fewer court filing fees. The rules for divorce vary by state, but uncontested divorces usually require the following:
both spouses agree to end the marriage

neither spouse disputes child support or child custody

the spouses do not have a joint bankruptcy pending

no substantial property or assets need to be divided between the spouses, and

neither spouse is seeking alimony
It is always best to consult with an attorney when you are considering a divorce, especially when your partner is incarcerated. There might be special considerations, and a lawyer can help guide you through all of the forms and materials that you must submit in order to proceed with the divorce.
There is also the possibility of a contested divorce if your incarcerated spouse does not agree to the split, and it will require a lot more time and money. In this case, a judge will determine the outcome of the disputed issues, which are usually centered around asset and property allocation, as well as spousal support, child support, and child custody.
The incarcerated spouse has a right to be involved with the legal proceedings, and they will most likely receive permission to attend the hearings. They might be granted a guardian ad litem to attend court in their place.
Even though divorcing someone who is incarcerated isn't much different from a regular divorce proceeding, you must consult with an attorney so you can learn the specific laws in your state and find out how to proceed.
How does an inmate file for divorce?
The first stop for inmates who wish to file for divorce is the prison law library. As a rule, there are divorce packets available that will advise the inmate on what forms to fill out and who to contact. It is extremely difficult to file for divorce when you are in prison because most inmates don't have any money and their ability to communicate with people on the outside is limited.
Some states have an indigent divorce option for people who are incarcerated that will allow them to file for free, or for a minimal cost.
The required forms vary by county and state, but common forms in an inmate divorce packet include:
Petition. The petition states that you are filing for divorce from your spouse. This form may include the reasons for divorce, and it is common for the petition to list the assets that you and your spouse share.

Summons. The summons is a piece of paper that your spouse will receive along with a copy of the divorce petition. The summons tells your spouse how long they have to respond to the divorce papers.

Court information sheet. The court information sheet will specify which court is handling your divorce and which judge has been assigned to the case.
Inmates can also get help from the prison librarian, and some law schools offer help to inmates with legal issues.
Again, this is all general information, and I am not a lawyer. If you need specific information on filing for a divorce from an inmate, please contact an attorney.
Do you think divorce should be easier for someone who is married to an inmate? Let us know in the comments below.
Sources:  





Explaining the association between incarceration and divorce





https://www.ncbi.nlm.nih.gov/pmc/articles/PMC4293638/





How to divorce an incarcerated spouse





https://www.divorcemag.com/articles/how-to-divorce-an-incarcerated-spouse
---
---
Categories