Blog
---
Can You Study In Prison?
07 Aug 2023, Prison Rules, by brian
One of the things people are most curious about when it comes to prison is how inmates spend their time. How do you get through each day when you know you can't step outside of the prison walls? When your freedom is taken away, how does that affect how you live your life? Can you… Continue reading Can You Study In Prison?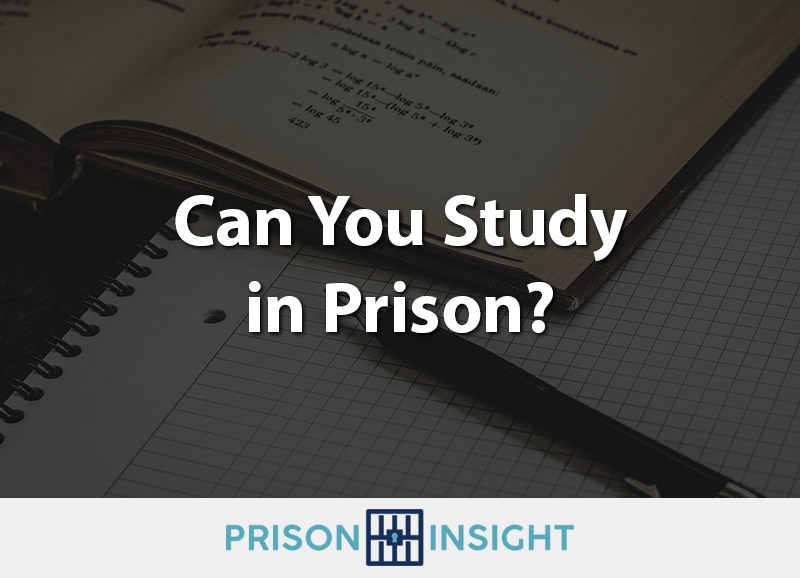 One of the things people are most curious about when it comes to prison is how inmates spend their time. How do you get through each day when you know you can't step outside of the prison walls? When your freedom is taken away, how does that affect how you live your life? Can you even have a life in prison?
The concept of time in prison is very different than it is in the free world. Everything is dictated by dates. What date did you get for your parole hearing? When is your release date? How many more days do you have until you are released? When do you 12/12 (prison slang for the day you are off parole and completely free of the DOC)?
All of those things are topics of conversation each and every day – no matter if you have ten days or ten years until you are released.
When discussing how prisoners spend their days, inevitably the question of education comes up. Can prisoners go to school? Can you study in prison?
This blog post will be all about the educational opportunities in prison, and it will cover the following topics:
Inmates and education before incarceration

The reality of prison education

Literacy and GED classes in prison

Vocational training in prison

Getting your college degree in prison
Inmates and education before incarceration
The United States incarcerates more people than any other country on Earth. You might have heard the disturbing statistic that America has five percent of the world's population, and 25 percent of the world's prison population.
This love of a mass incarceration was fueled by the drug war – which began in the early 1970s – but what is often overlooked in our troubled criminal justice system is the lack of education in the prison population and how that affects people getting in trouble with the law, as well as recidivism.
According to the Literacy Project Foundation, three out of five people incarcerated in US prisons can't read, and 85 percent of juvenile offenders have trouble reading. With these kinds of numbers, it should come as no surprise that the majority of inmates don't have a high school diploma or a GED, much less any post-secondary education.
The reality of prison education
According to the San Francisco Chronicle, the, "research has shown that arming inmates with a solid education is one of the surest ways of reducing the rate at which they end up back behind bars after being released."
While the Federal Bureau of Prisons and the individual states' departments of corrections can't do anything about education before a person ends up behind bars, they can do something about it when they are incarcerated. This has led to the federal government and individual states passing laws or instituting policies that require inmates to go to school while they are incarcerated.
All federal institutions now offer literacy classes, English as a Second Language, parenting classes, wellness education, adult continuing education, and library services.
Officially, states like California have embraced education as an important part of rehabilitation, but the reality is very different. Just six percent of inmates in California are in academic classes, and five percent attend vocational classes.
This issue is widespread in prisons throughout the United States, and the education statistics are pretty poor no matter which state you look at.
Literacy and GED classes in prison
Because the vast majority of inmates can't read or have trouble reading – and they do not have a high school diploma – they are required to go to school while incarcerated. Can you study in prison? The answer is yes. Not only are you allowed to study, but you are encouraged to do so.
In most cases, inmates who do not have a high school diploma or a General Educational Development (GED) certificate must participate in the literacy program for a minimum of 240 hours or until they obtain their GED. Non-English-speaking inmates must take English as a Second Language.
At the prison where I was incarcerated, the inmates in the GED classes attended school Monday through Thursday from 8:00 am to 3:00 pm, and they were also allowed to check out books and study aids from the prison library to use when they weren't in class.
Inmates who had their diploma could get jobs as tutors to help the students with their classes. Since I was one of the few who had a college degree (I only knew one other inmate on a campus with 1,800 prisoners who had a degree), inmates often came to me for help with their studies.
Most of the inmates I tutored dropped out of school in the 9th or 10th grade, and needed help with basic math and reading comprehension.
To be honest, while inmates without a diploma were required to go to school, that didn't mean that they were excited about going to class and learning. The classes and teachers weren't always the best. If you think the conditions in some public schools are bad, you should see how it is in prison.
The environment isn't the best, with many teachers not caring or who see inmates as less-than-human, and prisoners who feel defeated in life at very young ages and have no motivation to better themselves.
For those who do want to learn and set themselves up for a better future, the opportunities are there.
Vocational training in prison
Once you receive your GED – or if you go into prison with a diploma or GED – there are vocational and occupational training opportunities at most prisons that inmates can sign up for to help them acquire job skills.
Vocational and occupational training programs offered at different institutions are based on the needs of the inmates, general labor market conditions, and institution labor force needs.
At the prison I was in, the vocational programs offered were Building Trades, Cosmetology, Horticulture, and Culinary Arts. I often thought about taking the horticulture classes just for the irony since I was in prison for growing plants, but I ultimately decided against it. Since I have a college education, I didn't want to fill a spot that would benefit someone else.
Some prisons offer programs like Carpentry, Baker, Office Management, Plumber, HVAC, and Electrician. The opportunities vary depending on the facility, but if an inmate does want to further their education, there are usually classes available for them to choose from.
Getting accepted into those programs usually depends on how much time you have left in prison. You need to have enough time left in your sentence to complete the program, but you can't have so much time left that ten years would pass between taking the class and your release date.
The point of these programs is to give inmates job skills, so too much time between taking the class and a release date would be missing the point.
Of all of the educational programs available in prison, the vocational classes seemed to be what inmates enjoyed the most. Acquiring new skills motivated a lot of the inmates, but whether or not they turned those skills into income once they were released was unclear.
Getting your college degree in prison
There was a point in our history when inmates were eligible for Pell Grants so they could get money to go to college while incarcerated, but those grants were taken away years ago by the federal government.
Inmates at most facilities can pursue a college education, but they have to do it on their own dime and they have to find an educational institution with a correspondence program that will work with them.
Some prison libraries have resources available to help inmates with getting into a prison program offered by a nearby college or university, but if prisoners want to do this, they really need the assistance from someone outside of prison walls.
Inmates don't have internet access or an income, so getting a college degree behind bars is extremely difficult. But, it can be done if the desire is there, and they have someone in their life who is willing to help them gather information and pay for it.
Unfortunately, this is extremely rare because college classes don't count as "education" in prison when it comes to job assignments.  I knew one person who was taking college classes at the prison I was in.
Let me explain. At most facilities you must either go to school or have a full-time job, but correspondence classes don't fall into the school category. This means that if you have completed your GED and want to take college classes, you have to do it in addition to working a full-time job.
However, for inmates with extremely long sentences, this can be an awesome choice to help them get through those long days, months, and years.
I would also like to note that some prisons offer unique classes above and beyond GED and vocational programs like Shakespearean Performance, Russian Literature, Coding, and Expository Writing.
Outside volunteer programs like Shakespeare Behind Bars and The Last Mile will bring these classes into a prison if there is interest, and more often than not, the waiting lists are long. These aren't for college credit, but they do help inmates develop life skills and exercise their critical thinking skills, which helps raise their self-esteem.
Both state and federal facilities have made somewhat of an effort to tackle the problem of inmates and education to help reduce recidivism. However, there is still a lot of work to be done. It always depends on the people involved – do the teachers or students really care? Do the students want to learn?
It is possible not only for an inmate to study in prison, but to receive an education that can help them be successful on the outside and not return once they are released. But, it takes hard work and a desire to better yourself, which can be difficult when you have your freedom taken away.
What are your thoughts on inmates and education? Let us know in the comments below.
Sources:  





Does The United States Really Have Five Percent of the World's Population and One-Quarter of the World's Prisoners?





https://www.washingtonpost.com/news/fact-checker/wp/2015/04/30/does-the-united-states-really-have-five-percent-of-worlds-population-and-one-quarter-of-the-worlds-prisoners/?utm_term=.9135a3187681





US Prison System Plagued by High Illiteracy Rates





https://observer.com/2017/07/prison-illiteracy-criminal-justice-reform/





Education Programs





https://www.bop.gov/inmates/custody_and_care/education.jsp





Federal Student Aid for Students in Adult Correctional and Juvenile Justice Facilities





https://studentaid.ed.gov/sa/sites/default/files/aid-info-for-incarcerated-individuals.pdf





Classes You Won't Believe Inmates Can Take In Prison





https://www.ranker.com/list/classes-inmates-can-take-in-prison/shanell-mouland
---
---
Categories